One of my most recent projects is an E-commerce API that has helped me solidify more advanced concepts in Django and Django Rest Framework. I learned to work in a dockerized environment and use Nginx, Gunicorn … inside Docker to make my application production ready.
Basic Functionalities

Registration using either phone number or email
Basic E-commerce features.
Payment integration using Stripe.
Caching using a Redis backend.
Sending emails asynchronously using Celery and Redis as a message broker.
Custom permissions set for necessary endpoints.
Documentation using DRF Spectacular
Dockerized for local development and production
Technologies Used

Django Rest Framework
PostgreSQL
Celery
Redis
Nginx
Docker
Stripe
This project makes use of:
Viewsets
Custom permissions
Nested serializers and so on. If you would like to strengthen your skills, I highly recommend you to check it out
I used Docker for local development and it has been so great! And then, with some adjustments, the application is production ready.
Tip: you can export your database schema to a SQL file using the command below:
docker 

exec

 

-i

 

[

container_id] pg_dump 

-U

 

[

postgres_user]  

--schema-only

 

[

database_name] 

>

 

[

target_path]

Enter fullscreen mode



Exit fullscreen mode

And then use this tool https://dbdiagram.io/ to generate ER diagram while playing around with the SQL code.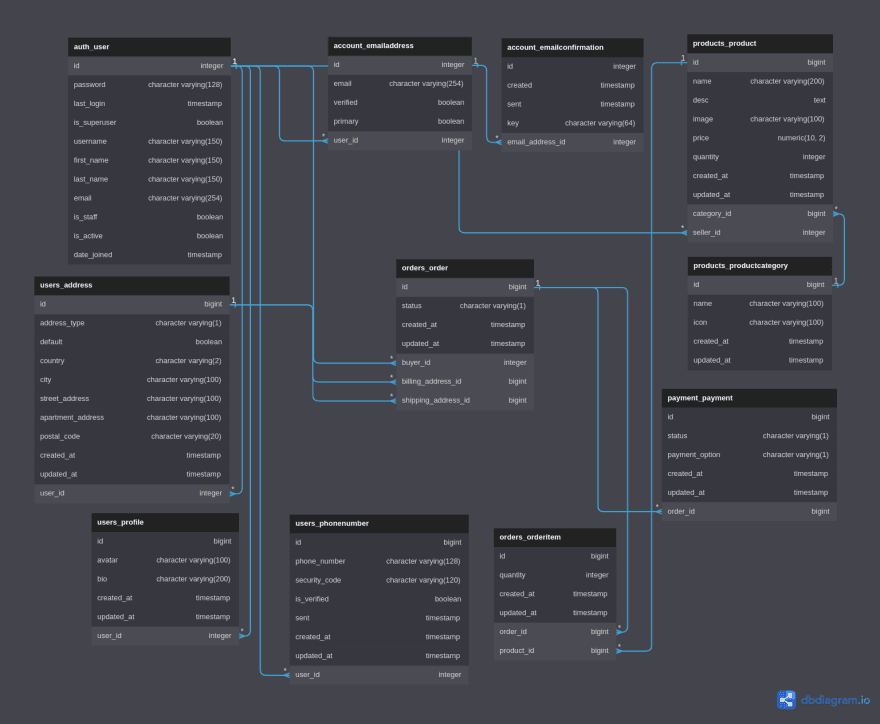 Link to GitHub repo: https://github.com/earthcomfy/django-ecommerce-api
I welcome any suggestion. Follow me to get upcoming tutorials.
This blog is posted using Scattr